You are here
Unisciti al nostro Gruppo
Unisciti al nostro Gruppo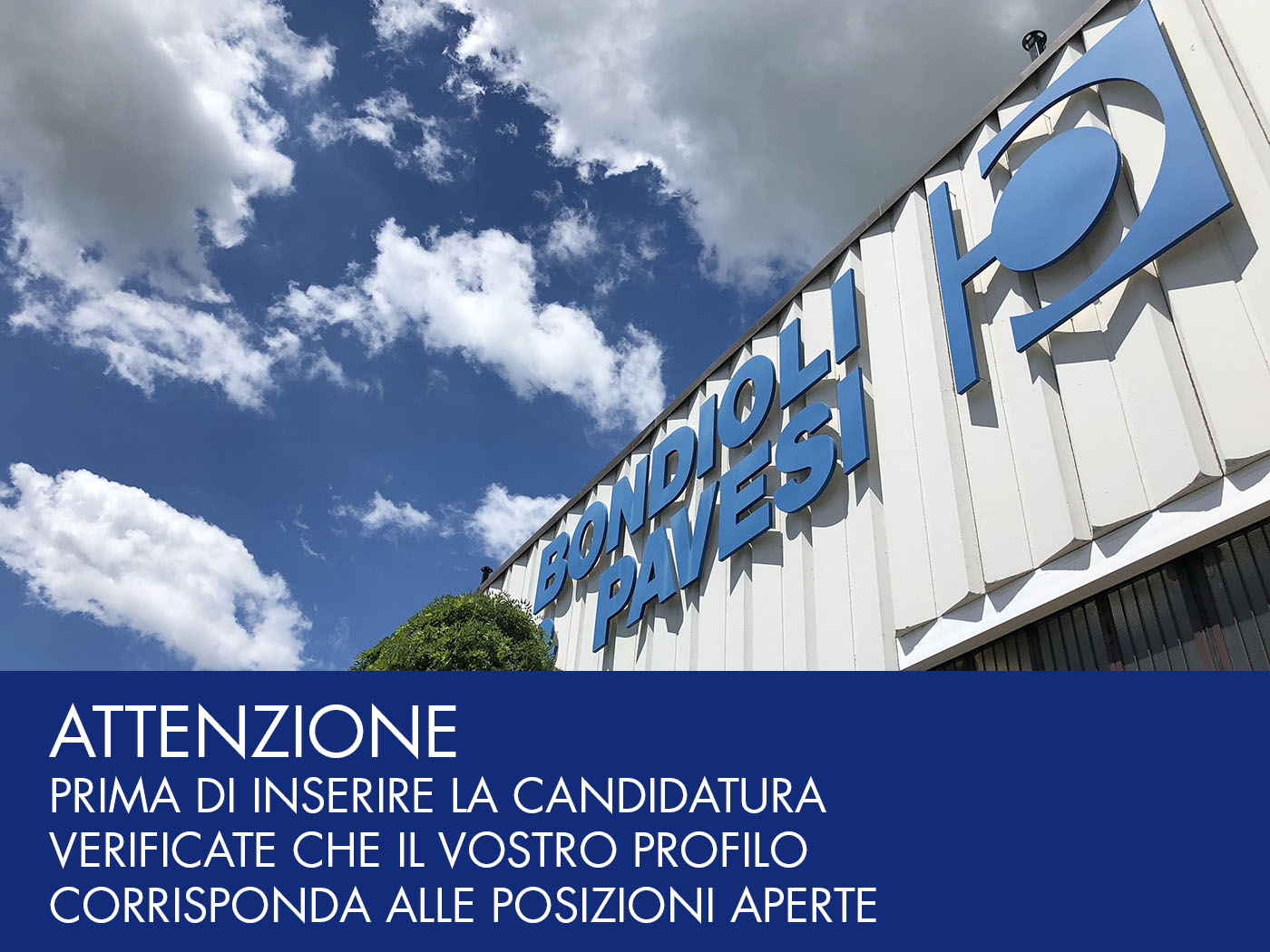 B&P People:
Siamo un Gruppo internazionale di oltre 1.700 persone in cui lo sviluppo delle risorse e la crescita professionale ed umana è alla base della cultura aziendale.
Perchè entrare nel Gruppo Bondioli & Pavesi:
Entrerai a far parte di una grande Company che produce e vende in tutto il mondo gli "Intelligent Integrated Power Systems", i sistemi integrati e connessi per la trasmissione di potenza.
Nella nostra impresa la crescita e lo sviluppo delle competenze di tutti i collaboratori sono valori fondamentali, costantemente supportati dai corsi di formazione dell'Academy interna.
Con la nostra lunga storia di più di 70 anni, sono la ricerca e l'innovazione, la professionalità, la cura verso il Cliente e la passione per il nostro Lavoro a contraddistinguerci e a renderci orgogliosi di appartenere al Gruppo Bondioli & Pavesi.
Valori:
Il nostro Gruppo si rispecchia nei valori del Codice Etico: Lealtà e Trasparenza, Valore della Persona, Equità, Senso di Appartenenza, Eccellenza del Prodotto e del Servizio, Lavoro di Squadra e Competenza, Impegno Sociale e Ambientale.
Come candidarsi:
Per inviare una candidatura spontanea e il proprio CV è necessario registrarsi al portale.
Per registrarti:
1) Clicca su "Candidatura";
2) All'apertura della pagina scegli la voce in basso "Vuoi registrarti?";
3) E' importante allegare sempre il proprio Cv. Una volta caricato (l'icona diventa blu) e salvato, la candidatura è stata correttamente inviata al nostro server.
Si prega di non inviare CV via mail o tramite la sezione "Contatti" del sito, ma di utilizzare esclusivamente l'apposito portale.
Le candidature inoltrate senza previa registrazione al portale, non saranno prese in considerazione.
Tutte le candidature
Here you can send a speculative application for any area you are interested in.
Send your CV by registering on our site.
Applications should be accompanied by a cover letter inserted in the "Notes" section.
Your perspectives:
At Bondioli & Pavesi you will become part of a large Group that thanks to the skills acquired since 1950 today is a company of "Intelligent Integrated Power Systems", producer of integrated and connected power transmission systems, operating worldwide.
The development of personal skills and expertise and professional and human growth, thank also to an internal Academy, are a vital part of our Group's philosophy.
With our long history, we have been firmly committed to research and constant innovation, professionalism and customer focus and have always put passion and enthusiasm into everything we do.
All of this values make feel us proud to be part of the Bondioli & Pavesi Group .