You are here
The history of our trademark
Our trademark it has undergone a series of evolutions and changes.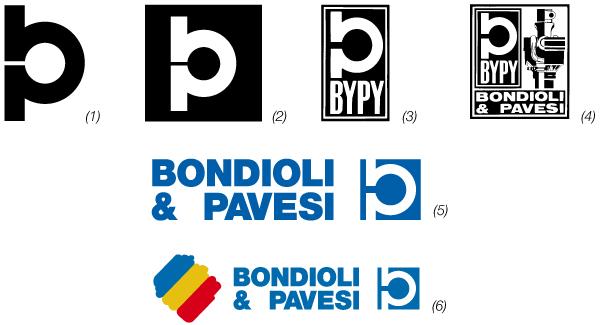 The trademark is the graphic sign that identifies a company. For this reason, it evolves over time, following the evolution of the company that it is designed to represent.
This is the case for our trademark, too – prior to reaching its present form, it has undergone a series of evolutions and changes.
The first trademark (1), which is a graphic representation of the letters b and p in lower case, is used by the company until 1964, and subsequently in a negative version of the original (2) until 1968. The presence on foreign markets of Bondioli & Pavesi products is growing rapidly, and as such, the BYPY logo (3) is introduced in order to make it easier for English-speaking customers to read the company name. This trademark is used from 1968 to 1974. In order to create an increasingly clear association between the product and the brand logo (4), in 1975 a stylised half drive-shaft is incorporated, in addition to the full name of the company.
The trademark currently in use (5) was introduced in 1981, as a result of the graphic evolution of the pre-existing logos. The trademark is already known and associated with the product, and accordingly, the drive shaft image is removed, the trademark is simplified, and the colour blue is introduced.
Following the diversification of the company's production and its evolution into an industrial group, in 1990 Bondioli & Pavesi introduce a 3-colour image alongside the logo (6), representing the company's three product lines: drive shafts (yellow), gearboxes (red) and hydraulic oil components (blue).
In 2017, the group trademark has become widely associated with a variety of products. For this reason, the 3-colour image disappears, and the 1981 trademark design (5) is reintroduced.