Hydraulic and electric servocontrols and feeding unit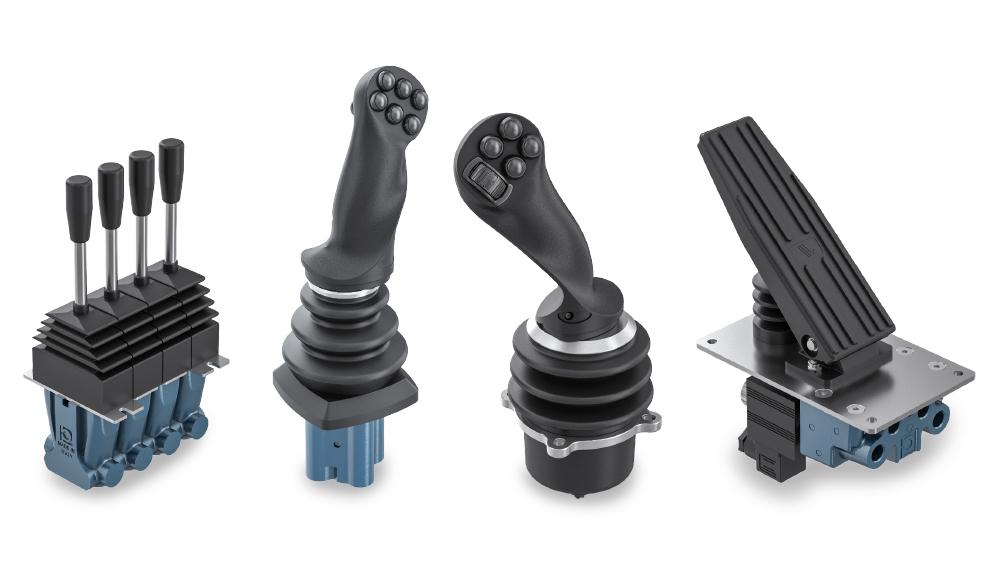 Applications
HPC hydraulic servo controls are used for low pressure remote piloting of variable displacement pumps and motors and direction control valves with hydraulic proportional variable controls.
HPEG electronic joysticks are used for remote piloting via a Can Bus signal of variable displacement pumps and motors and directional control valves with proportional electric variation controls.
HPU units are fluid power accumulators used to guarantee the response of emergency pilot or interlock functions in the event that the main source of hydraulic power should fail unexpectedly.
Both types of servo control and the power units are used typically on mobile machinery used in the agricultural, earth-moving, municipal cleaning and green space management sectors.
Key Features
Servo controls are available in lever and pedal operated versions and for hydraulic, electric, proportional electric, Hall-effect and mechanical drives. They can be configured in the manner best suited to the particular operating requirements, selecting from a wide range of handgrips, pushbuttons, switches and rollers.
| Document type | Document Language | Code | Title | Revision | PDF |
| --- | --- | --- | --- | --- | --- |
| Brochure | | | | | Download |
| Brochure | | | | | Download |
| Brochure | | | | | Download |
| Brochure | | | | | Download |
| Brochure | | | | | Download |
| Brochure | | | | | Download |
| Document type | Document Language | Code | Title | Revision | PDF |
| --- | --- | --- | --- | --- | --- |
| Technical documentations | | | OPERATING INSTRUCTIONS FOR SERVO CONTROLS | | Download |
Catalogue - Product sheets

| Document type | Document Language | Code | Title | Revision | PDF |
| --- | --- | --- | --- | --- | --- |
| Catalogue - Product sheets | | | HPCD THREE AXIS SERVO CONTROLS (LEVER MECHANISM) | | Download |
| Catalogue - Product sheets | | | HPCF SERVO CONTROL WITH PEDAL MECHANISM | | Download |
| Catalogue - Product sheets | | | | | Download |
| Catalogue - Product sheets | | | HPCJ - Lever mechanism double axis servo control | | Download |
| Catalogue - Product sheets | | | HPCS SINGLE AXIS SERVO CONTROL (LEVER MECHANISM) | | Download |
| Catalogue - Product sheets | | | HPEG - Single, cross and 360° axis servocontrols | | Download |
| Catalogue - Product sheets | | | | | Download |